Resetting Behringer V-Amp 3 Guitar Multi Effect Processor
|
The Behringer V-AMP3 Guitar Amp Modeler and Multi-Effects Processor can transform your guitar rig into any vintage or modern amp/cabinet combination you can dream of, plus add studio-grade effects. This red rocker comes loaded with 32 amp models, 15 speaker cabinet models and 16 classic effects. But that's only the beginning— you also get the UCA222 USB audio interface and free energyXT2.5 Compact software. In short, the V-AMP3 gives you the power to start recording a molten magnum opus in no time.
According to several user reviews, they have praised Behringer V-Amp 3 for the clean tones; Low overdrive tones; Price; Compact Design; Excellent Sound Quality; Good Selection Of Effects; Responsive; Versatile. Also, some users have complained it for there are many knobs that can confuse; A better screen would be appreciated; V-amp 3 presets are not compatible with v-amp 2 ones and you need a midi-usb cable to edit presets from pc.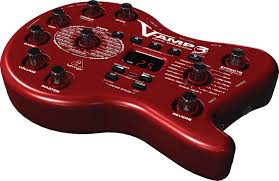 Image source:
behringer.com
Factory Reset:
power ON while simultaneously holding the [D] and [E] buttons.
When "CL" appears in the displays release all buttons.
Finally, press the [BANK UP] and [BANK DOWN] buttons simultaneously.
Warning! When you execute this operations, all stored settings will be erased and returned to the factory settings. So be sure to back up any information you wish to keep. This procedure also applies to the BASS V-AMP unit. Hopefully the article of "Resetting Behringer V-Amp 3 Guitar Multi Effect Processor" can help you.
Reference: Behringer V-Amp 3 manual