Resetting Alesis DM6 USB Kit Performance Electronic Drumset
|
DM6 USB is a professional electronic percussion products from Alesis. Features of the electronic drum is equipped with 108 quality drum, cymbal and percussion sounds. Feel pad and hardware and rack system are high quality. Features realistic and natural feel of the game on the surface contained in the kit DM 6 USB Kit. To suppress the vibration caused, Alesis choose natural rubber drum and cymbal surfaces for. 5 pcs kit with dual zone snare pad for two – sound compatibility. You can put a snare drum sound in the center and a rim click, rimshot, or something completely different like a cowbell on the rim!
In DM6 module contains a collection of notch drum, cymbal and percussion sounds blaring. You can edit and save your own custom sound. You will get 5 custom slots. For other extras, there is a USB output that sends the notes you play out as MIDI signal, so you can use the DM6 as a trigger to MIDI sequence with software drum modules such as BFD, Toontrack, or Reason for a limitless collection of sounds. DM6 has headphone and amplifier outputs so you can play quietly using headphones, or connect it and ready for action. You can also connect the iPod or CD player via the stereo input that is in DM6.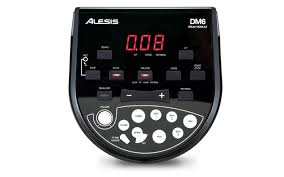 Image source: 
rockemmusic.com
Factory Reset:
To restoring DM6 USB Kit to its factory settings, just simply power ON while simultaneously holding the VALUE + and VALUE –
Warning! This operation will cause erasing any recorded data or changed settings, including User Kits, the User Pattern, and any volume, metronome, or Voice settings, which will return to their defaults. Hopefully the article of Resetting Alesis DM6 USB Kit Performance Electronic Drumset useful for you.