Resetting a Roland FA08 Workstation Keyboard
|
In 2014 Roland was announced the FA-08, which their first new full-featured synth workstation since 2008's Fantom-G. The FA-08  is still nicely portable for an 88-note weighted board and the whole package weighs in at just 36lbs which is manageable for one person, though this is without a flightcase. It start off with the sounds – a collection of over 2,000 patches taken from the flagship INTEGRA-7 sound module including the complete SuperNATURAL synth engine. Powerful onboard sequencing and sampling let you build up your tracks, and killer performance options make playing on the FA-08 a blast. Flowing seamlessly into every part of your creative world, the FA-08 morphs instantly from a standalone keyboard to become the command center of your computer music studio, with USB audio/MIDI interfacing, powerful real-time controllers, DAW transport controls, and much more.
According to several user reviews, they have praised a Roland FA-08 for the Deep workstation features with intuitive interface; Sounds from the Integra 7 onboard, plus plenty of expandability; Keenly priced and nicely portable. Also, some users have complained it for the Screen gets cramped on some functions; No PC editor.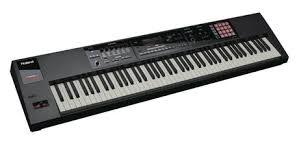 Image source:
musicradar.com
Factory Reset:
To restoring the factory settings in Roland FA-08, first press the MENU button, select "Utility" and press the ENTER button. Then,  select "Factory Reset" and press the ENTER button. When a confirmation message appears, press the [6] (OK) button to confirm and to start initialization of the program.
Warning! When you execute "Factory Reset," all stored settings will be erased and returned to the factory settings. Do not use this function unless you are certain that you want to do this. This procedure also applies to the Roland FA-06 unit. Hopefully the article of "Resetting a Roland FA08 Workstation Keyboard" can help you.
Reference: Roland FA08 manual