Reset Yamaha Tyros5 Arranger Workstation
|
The first new is that the Tyros 5 is now available in two 61 and 76-key versions with a new chrome look. Continuing the legacy of the immensely popular workstation line, Tyros5 is defined by incredibly nuanced and detailed instrument Voices, studio grade digital effects and Styles so realistic, it's like having the world's greatest studio musicians follow your performance in real time! This year's models take performance to new heights, with Ensemble Voices, an incredible new feature that intelligently orchestrates brass, saxophone, woodwind and string ensembles by assigning each note in a chord to a different part in real time.
It features more than 300 new voices, for which Yamaha retains the Super Articulation 2 sound technology, but you'll now find new Ensemble (brass and strings) sounds for which the keyboard will automatically choose the appropriate instrument according to the played note. You'll also find an new Organ World section with 5 organ types ranging from classical grand to jazz, each with its own harmonic drawbars and effect controls.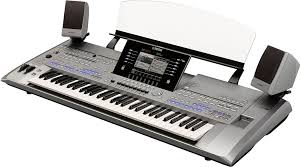 Image source:
audiofanzine.com
Factory Reset:
To restoring Yamaha Tyros5 to it's factory settings, just simply power ON while simultaneously holding the "Right-Most key" on the keyboard.
Warning! This operation returns all settings you've made in the menus to their factory-set condition. Do not use this function unless you are certain that you want to do this. Hopefully the article of "Reset Yamaha Tyros5 Arranger Workstation" can help you.
Reference: Yamaha Tyros5 manual