Reset Yamaha P255 88 Key Digital Piano
|
The Yamaha piano company is well known for producing some great musical instruments. This is the newest release from Yamaha and it comes in black and white. It's part of the bestselling P line from Yamaha. Yamaha's P series of digital piano has always been amongst the top choices for travelling and performing musicians. Most of the traveling performers and musicians prefer having this best digital piano because it can excellently be utilized for stage use. This flagship model is a significant improvement over previous models. But there's more than just the increased number of voices, rhythms, and songs. If you look for a digital piano that is modern and stylish, then you should consider the Yamaha P255.
According to several user reviews, they have praised Yamaha P255 for the very portable and lightweight making it easier to transport; It has two great sounding built-in speakers which works well in any setting without having to add an external amplifier; The Pure CF Sound Engine feature allows the users to pick different voices, all having an equally high quality. Also, some users have complained it for the highly priced as compared to the previous models.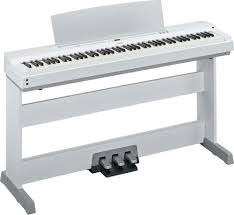 Image source: 
reidys.com
Factory Reset:
To restoring Yamaha P255 to its factory settings, just simply power ON while simultaneously holding the rightmost key on the keyboard (C7).
Warning! This operation will cause all backup data stored in the instrument's internal memory (including individual backup on/off settings made using Function parameters) to be overwritten. Be sure that you want to do this. Hopefully the article of "Reset Yamaha P255 88 Key Digital Piano" can help you.
Reference: Yamaha P255 manual