Reset the TC Electronic Hall of Fame Mini Reverb
|
This year TC Electronic present the latest member of the Toneprint family, the HOF Mini, a microscopic rendition of their famous reverb pedal Hall of Fame. TC Electronic's HOF Mini is one of the most compact reverbs on the market.  It ships with TC's famed hall reverb algorithm, and you can load additional sounds using TonePrint. You'll get just the one control and mono operation only, while the pedal is powered by a nine-volt power supply.
According to several TC Electronic Hall of Fame Mini Reverb reviewers, some users have praised it for the Sounds as good as its sibling; Minimal, small design; Great tone with virtually endless possibilities via tone editor software and TonePrints database; Small footprint. Also, some users have complained it for the Limited realtime control; Not ideal if you need lots of 'verb options; Doesn't include mini-USB cable for editing.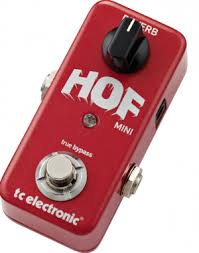 Image source: 
guitarworld.com
Factory Reset:
To restoring the factory settings your Hall of Fame Mini, you should uploading the factory TonePrint to the pedal. It is called the "Hall of Fame Default" and can be downloaded via the TonePrint app or from the website. Please click HERE to downloading the factory TonePrint from TC-Electronics website.
Hopefully the article of "Reset the TC Electronic Hall of Fame Mini Reverb" was useful".
Reference: TC Electronic support