Reset the Global parameters in Dave Smith Instruments Prophet '08
|
Dave Smith is considered a legendary figure in the synthesizer world, he founded Sequential Circuits and designed such classics as the Prophet 5 and Prophet VS, and he was a pioneer in bringing MIDI to synthesizers. The new for 2007 Prophet '08 brings back much of the classic Sequential Circuits Prophet synthesizers, in a beautiful, modern and ultra-stable programmable analog synthesizer! Building on the Poly Evolver keyboard, the Prophet '08 offers eight voices of polyphony with a 100% analog signal path.
According to several user reviews, they have praised Dave Smith Instruments Prophet '08 for the sound; It's lovely to look at, to program, and to play; It's surprisingly compact and manageable; It's very flexible for an integrated analogue polysynth; It's not only inexpensive for what it is, there's no direct competition. Also, some users have complained it for the encoders are perhaps a little too wobbly; There's no keypad, which would speed up some functions; The arpeggiator is limited.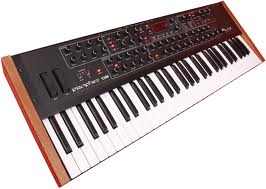 Image source:
performing-musician.com
Factory Reset:
To Reset the Global parameters in Dave Smith Instruments Prophet '08, just simply holding the [GLOBAL] switch and pressing [LFO 3].
Warning! This operations will reset the Global parameters to their factory defaults. Do not use this function unless you are certain that you want to do this. Hopefully the article of "Reset the Global parameters in Dave Smith Instruments Prophet '08" can help you.
Reference: Dave Smith Prophet '08 manual