Reset the Akai Pro MPX8 Sample Player
|
Akai Pro has a long and prestigious history of making Phat Beatz. Their MPC series was a key player in the sample-driven 90s era hip hop scene. At the 2013 NAMM Show, Akai Professional introduced the MPX8 SD sample launcher with MPC pads. Akai's MPX8 is a stylish sliver of hardware that combines drum pads with a potentially huge collection of samples stored on an SD card. The MPX8 is a portable sampler that uses Akai Pro's famous velocity sensitive drum pads. It comes with 21 built-in classic samples, MIDI controller for all your cue point drumming needs.
According to several user reviews, they have praised an Akai Pro MPX8 for a compact sample player for a potentially massive collection of samples loaded from SD card; A drum controller that outputs not just velocity but polyphonic aftertouch too; The price is right. Also, some users have complained it for can be fussy about the samples it plays; Editor software blissfully unaware of fussiness; Slothful loading of long samples.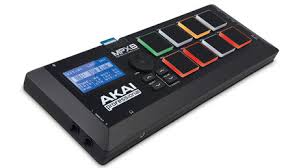 Image source:
musicradar.com
Factory Reset:
To restoring your Akai Pro MPX8 to it's factory settings, just simply power on while simultaneously holding both [VOLUME +/–] buttons.
Warning! This procedure will reset all Internal Kits to their defaults. Do not use this function unless you are certain that you want to do this. Hopefully the article of "Reset the Akai Pro MPX8 Sample Player" can help you.
Reference: Akai Pro MPX8 manual