Reset Service Required Light on 2014-2019 Kia Cadenza
|
Reset Service Required Light on 2014-2019 Kia Cadenza – Kia displays the new car, Kia Cadenza 2014 driven by a charming model. Themed ad 'Impossible to Ignore' This proves that Kia has done a lot of development that can not be ignored by lovers of luxury cars in the world. 2014 Cadenza's interior presents many luxuries. Advanced systems in use SiriusXM traffic navigation with Bluetooth and an 8-inch touch screen monitor, and camera for easy navigation.
Entertainment device with audio system uses 12 speakers powered 550 watts that will accompany along the trip. Available in two models, Luxury and Techno, Cadenza 2014 provides several upgrades such as panoramic sunroof, automatic sunshade, HID headlights, heated steering automatic, as well as the 7-inch LCD instrument cluster. Using the 19-inch alloy wheels as well as blind spot detection makes Cadenza 2014 impressed sophisticated and resilient.
How to Reset Service Required Light on 2014-2019 Kia Cadenza:
To turning off the Service Warning Message on the 2014 2015 2016 2017 2018 2019 Kia Cadenza, conform to the following instructions:
When you turn on the engine and see "Service required" on the screen, press the MOVE button located at the steering wheel for more than 1 second.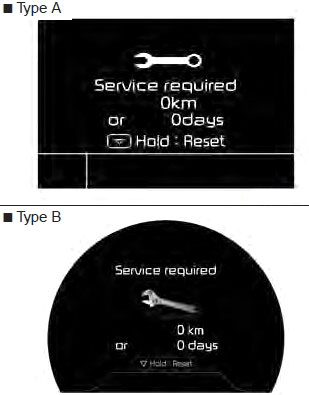 With this, the service interval will be reset to default settings. But you have to activate and set the service interval feature by accessing the INFORMATION menu.
To access the Information menu, press the MODE button (icon rectangle) on the steering wheel.
Highlight the INFORMATION menu.
Press the MOVE button to access the menu and use the directional keypad to turn the SERVICE INTERVAL mode on and set the applicable interval.
Turn the ignition off and then start the engine to verify the indicator has been reset.
For more details, please watch the following video:
This procedure should be work on the latest model of Kia Cadenza (2014 2015 2016 2017 2018 2019 model years). Hopefully, the article of Reset Service Required Light on 2014-2019 Kia Cadenza useful for you. Good Luck!