Reset Nikon COOLPIX L32 Digital Camera
|
Reset Nikon COOLPIX L32 Digital Camera – As we know, at this time most of the smartphone is equipped with a camera that is much better. In fact, you could say people prefer to take pictures using the camera on their smartphone instead of using a digital camera. However, not all people think so. For certain people the actual camera function is not replaceable by the camera on a smartphone. If you fall into that category, then you need not worry because not long ago, vendor-known camera, Nikon, introduces two new camera called Nikon Coolpix L32.
Nikon Coolpix L32 brings the screen with 20.1MP CCD sensor, plus Easy Auto Mode that allows users to take pictures without having to linger decide exactly when to be taking pictures. In addition, the Nikon Coolpix L32 has the ability to record 720p HD video with 5x Optical Zoom. Interestingly, both the Nikon Coolpix L32 is priced at an affordable price.
How to Reset Nikon COOLPIX L32 Digital Camera:
To restoring the Nikon COOLPIX L32 Digital Camera to it's default settings, conform to the following instructions:
Press [Menu] button
Press the [</ dial left] button to move to the tab
Select "Setup" by using [∨/ dial down] button and press ok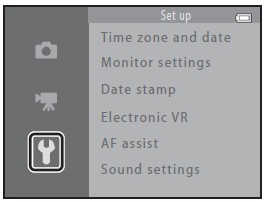 Scroll down and highlight the "Reset All" and then press ok button
Caution! This function will not change the date, language, time, and user settings. Be sure that you want to do this. Do not use this function unless you are certain that you want to do this. Hopefully the article of Reset Nikon COOLPIX L32 Digital Camera useful for you. Good Luck!