Reset Moog Minimoog Voyager Select Series
|
The Minimoog Voyager or Voyager is a monophonic analog synthesizer, designed by Robert Moog and released in 2002 by Moog Music. Like the original Minimoog, the Voyager has six sound sources. Five of these (three voltage-controlled oscillators with switchable waveforms, a noise generator, and an external line input) pass to a mixer with independent level controls. Unlike the original Minimoog, the Voyager's modulation busses can be set to affect almost any parameter of the sound, not just the filters.
Minimoog Voyager Select Series (2006-13) was a customizable version of the Electric Blue in which the customer can choose between mahogany, electric blue, traditional ash, white wash, maple, black, cherry, and walnut cabinets with red, blue, white, orange, green, or purple backlighting. Ensuring that this synth sounds as stunning as it looks, the Minimoog Voyager Select Series has all of the same classic, rich Moog analog synthesis you'd come to expect from a Minimoog, complete with three highly stable, voltage-controlled oscillators with continuously variable waveforms, two inimitable Moog lowpass resonant filters, a large 3-axis, front-panel touch surface control, and a wealth of flexible modulation routings for programming and performance flexibility. Included in the nearly 900 onboard presets are over 700 personally programmed by dozens of luminaries of the keyboard world.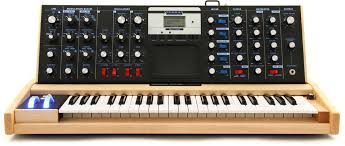 Image source:
vintagesynth.com
Factory Reset:
Press the [MASTER] button to enter "Master Mode"
Select "COPYRIGHT INFO" by using the [-1/+1] button
press the [+1] button to view the "Factory Setup Menu".
Select "FACTORY RESET"
Select 'YES' and press ENTER.
Warning!  This operation will cause restore the Voyager PANEL and MASTER functions to the default factory state. Do not use this function unless you are certain that you want to do this. Hopefully the article of "Reset Moog Minimoog Voyager Select Series" can help you.
Reference: Moog Minimoog Voyager manual