Reset M-Audio Keystation Pro 88 MIDI Controller
|
The M-Audio Keystation Pro 88 MIDI Controller is the world's first 88-key hammer-action USB MIDI controller. Housed in a smart silver casing, with a large blue LCD screen to keep you informed of everything that is going on as well as a forest of knobs, buttons and faders, it really looks the part, too. It offers you a host of advanced features and unprecedented integration with music applications.
According to several user reviews, they have praised M-Audio Keystation Pro for the great price for what's on offer; Class-compliant plug-and-play with OS X and Windows XP; Full complement of different hardware controllers, with refinements like Drawbar mode and Snapshot. Also, some users have complained it for no master volume control; Footswitch polarity must be reversed at every power-up (if necessary).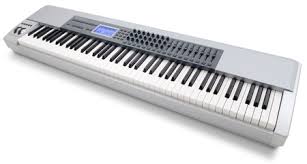 Image source: 
dolphinmusic.co.uk
Factory Reset:
To reset the Keystation Pro 88 to the factory settings, just simply power ON while simultaneously holding the [+ and –] buttons.
Warning! This operation will cause erase all controller setups stored to memory. Be sure you want to erase the memory and return the Keystation Pro 88 to its factory default state before continuing with this procedure. Hopefully the article of "Reset M-Audio Keystation Pro 88 MIDI Controller" can help you.
Reference: M-Audio Keystation Pro 88 manual