Reset Korg KROSS Keyboard Workstation
|
The Korg Kross is part of Korg's workstation keyboard lineup along with Kronos, Kronos X, Krome, Microstation and Microarranger. The Korg Kross is Korg's new entry level mobile synthesizer and music workstation. It's the entry level version workstation with less power and features than the upper level Korg workstations, but what its lacking in features, memory, etc., it makes up for in being an easy to use, portable, great sounding keyboard for someone that doesn't want to spend double or triple on a top-shelf keyboard right now. The black on red colour scheme looks striking and the case shape is pleasing on the eye, there's a nice blue LED mounted in the rear logo, plus the glossy control panel gives the whole package a classy finish.
According to several user reviews, they have praised Korg KROSS for the compact and extremely portable; Powerful EDS-i sound engine with FX; Sequencer, audio recorder and arpeggiator. Also, some users have complained it for no aftertouch; Few real-time controllers.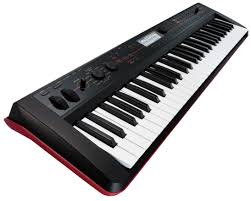 Image source: 
synthtopia.com
Factory Reset:
To restoring Korg KROSS to it's factory settings, first enter "Global" mode by pressing the [GLOBAL/MEDIA] button. Press the [FUNCTION] button, and select "Load Preload/Demo Data" by using the ▲(PAGE–) and ▼(PAGE+) buttons. Next, as the Kind, use the [VALUE] dial etc. to choose All. Finally, press the [MENU] button to execute the function.
Warning! This operation will cause restore all of the Programs, Combinations, Drum Kits, User Arpeggio Patterns, and Global settings to their original factory settings. Before you perform this operation, check whether there is any data you want to keep. Hopefully the article of "Reset Korg KROSS 88 Keyboard Workstation" can help you.
Reference: Korg KROSS manual