Reset Kawai CE220 Digital Piano
|
The Kawai CE220 Digital piano is a masterful musical instrument manufactured by the famous Japanese brand Kawai. The manufacturers of Kawai CE220 claim that they are the best to understand the needs of any piano learner and hardcore pianist, and thanks to their awesome talent, with which they have left the best impression of them on the CE220 piano. The Kawai CE220 piano boasts the AWA PROII wooden-key action, a feature that has been found on the various award-winning Kawai instruments. With CE220 model, Kawai has added to its famous feature many other upgrades as well as new features.
According to several user reviews, they have praised Kawai CE220 for the an excellent digital sound technology and most recent touch and tone keys; the piano does not need any stand because the model has an in built stand with itself; The sliding keyboard cover protects the piano from dirt and insects. Also, some users have complained it for the leys of the piano are too stiff and hard to control; There comes no built in rhythm or synthesizer with it; The wooden piano does not look like made with real wood, but plywood.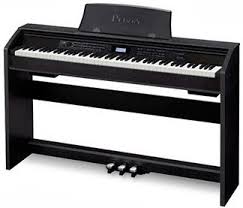 Image source:
consumersavvyreviews.blogspot.com
Factory Reset:
Press and hold the [TRANSPOSE] and [USB] buttons simultaneously, then press the [REC] button.
When the "User Memory" function appears in the display, select the 'Reset' function by using the [∧ or ∨ VALUE] buttons
Finally, press the [REC] button.
Warning! This operation will cause, all settings stored in User Memory will be reset to the factory default values, but not clear recorder songs stored in internal memory. Be sure that you want to do this. Hopefully the article of "Reset Kawai CE220 Digital Piano" can help you.
Reference: Kawai CE220 manual