Reset All Controllers in Avid KeyStudio Keyboard
|
Powered by the same technology behind many of today's greatest hits, Avid KeyStudio instantly transforms your Mac or PC into a full-featured recording studio. The streamlined combination of Avid hardware and software—the 49-note, velocity-sensitive M-Audio KeyStudio keyboard and Pro Tools SE music creation application—makes it easy to turn your inspiration into a professional-quality song. Additionally, one can choose from over 100 different instrument sounds, and then add effects that include reverb, delay, EQ, compression, chorus, flanger, and many others, polish the tracks, and then share them with anyone. The Pro Tools software contains a wide array of music creation templates for creating hip-hop, electronic, pop, funk, jazz, and rock and blues tracks. But, M-Audio didn't stop there. They added a 2-in/2-out USB interface, so you can put music directly into your computer via built-in XLR, 1/4, or RCA jacks. Plus, the KeyStudio 49i comes complete with Ableton Live Lite software.
According to several user reviews, they have praised Avid KeyStudio for the made well and seems sturdy, the keys feel durable and the wheels and buttons are strong; It has outstanding quality, strong durable plastic, keys that feel sturdy and buttons that you can actually feel click when you press them. Also, some users have complained it for the Avid products the driver (The program used to run the USB Interface) is not compatible at this time with Windows 7, and I also heard it had a problem with the newest Mac OS Snow Leopard.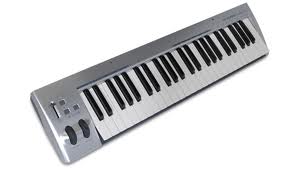 Image source:
tigerdirect.com
Factory Reset:
To reset All Controllers in Avid KeyStudio Keyboard, just simply press the [Edit Mode] button, and then press the [RESET ALL CONTROLLERS] key (C#3).

Warning! This operation will cause all controllers will have been reset to their default values. Do not use this function unless you are certain that you want to do this. Hopefully the article of "Reset All Controllers in Avid KeyStudio Keyboard" can help you.
Reference: Avid KeyStudio manual