Reset a Yamaha P Series P105 88-Key Digital Piano
|
The Yamaha company has been making musical instruments for over 100 years (beginning with acoustic pianos) so they do know what they're doing. Yamaha's P-105, which replaces the P-95 in their lineup, is an inspiring tool for many practice, performance, and studio uses. While there are a wide variety of digital pianos in this price range, what really starts to separate the Yamaha P105 from its competition is the fact that it has separate woofers and speakers on each side of the keyboard. This new model has versatile quality which is very useful for both of the new beginners and a solid piano pro.
According to several user reviews, they have praised a Yamaha P105 for the pristine, expressive, above-its-class grand piano sound; Two-track MIDI recording also useful for live looper-like effect; USB MIDI connectivity; Very easy split function; Has duet mode; Built-in speakers have crisp, detailed sound; Very portable at 26 pounds. Also, some users have complained it for the Limited non-piano sound set; Drum patterns are a bit limited in styles, ranging from basic rock to jazz but excluding contemporary pop and hip-hop feels.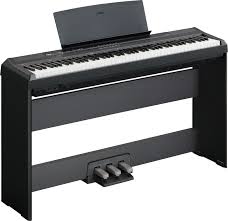 Image source:
keyboardmag.com
Factory Reset:
To initialize the backup data to the factory initial settings, just simply power ON while simultaneously holding the C7 key (right-most key on the key board).
Warning! Be sure you want to erase the memory and return the P105B to its factory default state before continuing with this procedure. Be sure that you want to do this. Hopefully the article of "Reset a Yamaha P Series P105 88-Key Digital Piano" can help you.
Reference: Yamaha P105B manual