Reset a Yamaha DD-65 Digital Drums
|
Drum pads are becoming a standard part of every electronic and modern music's home instrumental repertoire. The Yamaha DD-65 digital drum has been designed from a drummer's point of view, making it easier for acoustic drummers to play. This is because they're all at once versatile and portable, enabling the user to experiment, record, send, and refine in a single unit. The Yamaha DD-65 unit features eight touch-sensitive pads, two foot pedal inputs, ported speakers, and an auxiliary audio input for playing along with MP3 players or other audio devices – a ton of great features for this price! The DD-65 is also General MIDI-compatible.
According to several user reviews, they have praised a Yamaha DD-65 for the sound quality is very good; The size is compact; The overall design is very welcoming and feels more natural than the previous model; It's a great option for budding drummers, and those of us who are already drummers, but don't have space for a full size acoustic or electric kit. Also, some users have complained it for the DD-65's smaller layout will without a doubt take some getting used to.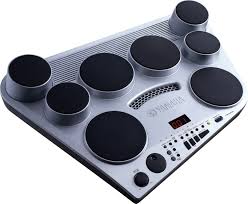 Image source:
sweetwater.com
Factory Reset:
To restoring Yamaha DD-65 to it's factory settings, just simply power ON while simultaneously holding the [DEMO] button.
Warning! This funtion erases all backup data in the instrument's flash memory and restores the initial default settings. So be sure to back up any information you wish to keep. This procedure also applies to the YDD-60 unit. Hopefully the article of "Reset a Yamaha DD-65 Digital Drums" can help you.
Reference: Yamaha DD-65 manual