Reset a Yamaha CS6X Digital Synth
|
The Yamaha CS6X is a MIDI master keyboard (also known as a controller keyboard) with a nice variety of useful bells and whistles. It is also a synthesizer and has sequencing and sampling capability. The CS6x has more features than any previous Yamaha Control Synth, with plenty of polyphony, real-time controllers, onboard effects, and basic sampling. This synth gives you the power to transform your musical ideas into reality by providing a huge selection of fat onboard voices, from all the essential standards to funky basses, analog pads and drum kits. The CS6x sports 19 parameter knobs for real-time sound creation and control.
According to several user reviews, the have praised a Yamaha CS6X for a true synth, without the GM limitations of the 1x and 2x; Lots of very good sounds; Useful sampling facility, with some off-the-wall processing tools; Fun arpeggiator; Good MIDI-file playback facilities; Plenty of real-time control; Nicely priced expansion boards; Makes a good master keyboard. Also, some users have complained it for could be easier to program; Poky display; It's not really fair to call it 20-part multitimbral, even with two boards; Audio input (and therefore sampling) not stereo; Uses relatively expensive SmartMedia storage cards.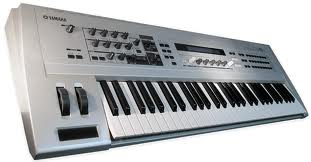 Image source:
audiofanzine.com
Factory Reset:
To restoring your Yamaha CS6X to it's factory settings, first press the [UTILYTI] key and then press the [JOB] key. When you see the "Factory Set" screen, press the [ENTER] key, so you will see a confirmation message. To execute the factory reset, press the [INC/YES] key. When the factory reset has been completed, press the [EXIT] key to return to Utility Mode.
Warning! When you restore the factory default settings, all the current settings for the all the Internal Voices and Performances will be overwritten with the factory defaults. So be sure to back up any information you wish to keep. This procedure also applies to the CS6R unit. Hopefully the article of "Reset a Yamaha CS6X Digital Synth" can help you.
Reference: Yamaha CS6X manual