Reset a Roland V-800HD Multi-Format Switcher
|
Last Updated on June 20, 2022 by Nick
Roland Systems Group is pleased to announce the Roland V-800HD Multi-Format Live Video Switcher is now shipping. The V-800HD is a powerful addition to the popular line of Multi-Format video mixers from Roland and after a very successful launch at the NAB show, many customers have been anticipating it's arrival. Its newest entry in this field is the V-800HD Multi-Format HD video switcher, which provides some great features at a nice price point.
The V-800HD is housed in a sturdy metal casing with a surprisingly small footprint. There are four composite video inputs; four analog RGB inputs for standard computer or component video signals; four DVI-I/HDMI inputs; and four SDI inputs that accept 3G, HD and SD signal types. Formats range from 480i up through 1,920×1,200 progressive, and can be mixed and matched.  The V-800HD Live Video Switcher is ideal for any live event or installation that requires the freedom to connect any type of source whether it be digital or analog, computer or video format.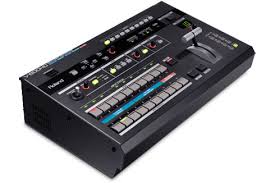 Image source:
connessioni.biz
Factory Reset:
Follow these steps, to restoring a Roland V-800HD to it's factory settings:
Press the [MENU] button
Select [System] by using the [CURSOR] buttons
press the [ENTER] button
select [Factory Reset],
press the [ENTER] button
press the [ENTER] button again when a message "Push ENTER to execute" appears
Warning! When you execute "Factory Reset", the settings you made will be lost. Before you perform this operation, check whether there is any data you want to keep. Hopefully the article of "Reset a Roland V-800HD Multi-Format Switcher" can help you.
Reference: Roland V-800HD manual