Reset a Roland RMP-5 Rhythm Coach
|
The RMP-3 made headlines when it was announced in early 2005. And the RMP-5 is the latest version of the RMP-3 pad that has been around for a while and has now been discontinued. Well, the RMP-5 is a combined practice pad and training tool. Basically you can use the mesh head to practice all you normal rudimental stuff, but at the push of a button, you can get the built in Rhythm Coach to analyse your playing and show you on the screen how you are doing.
Sharing a few key features in common with the popular RMP-3, the RMP-5 has a great-feeling, tunable mesh drumhead, and a convenient one-piece molded body with integrated pad and brain. The pad has 54 sounds in it (covering all parts of the drum kit but mostly snares), which are triggered when you hit the mesh head, but these can only be heard over headphones. The Roland RMP-5 features an advanced, expanded Rhythm Coach mode to help you develop your technique.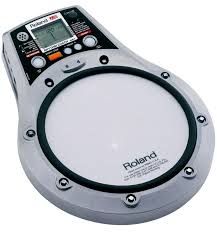 Image source:
megamusiconline.com.au
Factory Reset:
To restoring the Roland RMP-5 to it's factory settings, just simply power on while simultaneously holding the START/STOP button until the "rSt" appears. Press the START/STOP button again and keep pressing to restore the factory settings.
Warning! This operation will return all of the RMP-5's settings to their factory-set condition. Be sure that you want to do this. Hopefully the article of "Reset a Roland RMP-5 Rhythm Coach" can help you.
Reference: Roland RMP-5 manual