Reset a Flashback Delay Guitar Effects Pedal
|
Denmark's TC Electronic is an effects legend. The last few years have seen a plethora of pedals that can turn an average guitar player into an awesome rockstar. And the Flashback Delay pedal is a product of the TC Electronic, that has features 6 seconds delay time of every delay type you could ever wish for, from TC Electronic's legendary 2290 to a slapback, with 10 different types to choose from and it also doubles as a looper. There's also a unique reverse setting, which can produce anything from a subtle reverse flutter to an all-wet reverse guitar effect (think Hendrix-style reverse guitar parts). Besides all that, the Flashback delay comes with TonePrint, that allows you to import a new sound, a custom 'tuning' of the pedal, from a computer and store it in a special onboard memory slot via USB connection.
According to several Flashback Delay reviewers, some users have praised it for the Variety of delay effects; Tap tempo; Excellent sound quality; the toneprint. Also, some users have complained it for the pedal doesn't mute instantly when holding down the footswitch for tap tempo.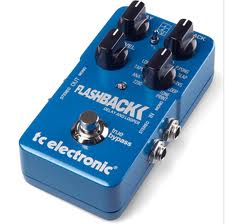 Image source:
audiogeekzine.com
Factory Reset:
To restoring the factory settings your Flashback Delay, you should uploading the factory TonePrint to the pedal. It is called the "Flashback Default" and can be downloaded via the TonePrint app or from the website. Please click HERE to downloading the factory TonePrint from TC-Electronics website.
Hopefully the article of "Reset a Flashback Delay Guitar Effects Pedal" was useful.