Reset a Elektron Analog Four 4-Voice Analog Synthesizer
|
Elektron is an electronic musical instrument company, based in Gothenburg, Sweden, founded in 1998. Until now, all Elektron's products have existed entirely in the digital domain, with digital samples and modelled synth engines, although its Sidstation had an analogue filter. In December 2012, the Analog Four, a 4-voice analog synthesizer, became available. At its heart the A4 is a four-voice analogue synth featuring two DCOs (digitally controlled analogue oscillators, not digital oscillators) per voice, with a sequencer track per voice (four tracks), an FX track and a CV track for controlling voltage controlled gear. Plus, an analogue ladder filter and multi-mode filter.
According to several user reviews, they have praised an Analog Four for the fine-sounding analogue oscillators, filters and overdrive; Potentially puts all your sequencing needs in one compact steel box; The configurable Performance Macros are a delight; Includes effects and external input processing; CV and DIN outputs invite connection to a wide range of analogue gear. Also, some users have complained it for no individual audio outputs for the four synths; The interface is small, packed and multi-functional; Although the A4 is stable and usable, development continues. For example, polyrhythmic pattern capability is a work in progress.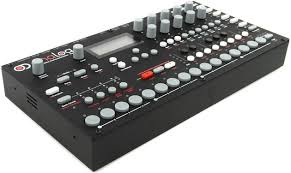 Image source: 
patcharena.com
Factory Reset:
Follow these steps to restoring an Elektron Analog Four to it's factory settings:
Enter to EARLY STARTUP MENU by power on while simultaneously holding the [FUNCTION] key,
Press [TRIG] key 3.
Warning! This procedure will overwrite and re-initialize the active project (including all pattern, kit, sound pool and global data). Before you perform this operation, check whether there is any data you want to keep. Hopefully the article of "Reset a Elektron Analog Four 4-Voice Analog Synthesizer" can help you.
Reference: Elektron Analog Keys manual