Reset a Clavia Nord Electro 4 Stage Piano
|
With that many typical Nord red keyboards you see on live stages and in studio setups you may wonder how much they can improve on a 4th version of a keyboard player oriented board for playing organs, piano's, EP's and whatnot. The new Nord Electro 4 series feature everything from the award winning Electro 3 series, adding the acclaimed new Nord C2D tone wheel engine and 122 Rotary Speaker simulation, USB MIDI and more! There are three models in the Electro 4 range. The 4D SW61 and SW73 offer waterfall keyboards with 61 and 73 keys respectively, while the 4HP incorporates a hammer-action 73-key unit.
According to several Nord Electro 4 reviewers, some users have praised it for the Physical drawbars; Compact, tough and portable; Great pianos, EPs, Clavs, and other vintage sounds, all expandable by Nord-supported download libraries. Also, some users have complained it for the still can't split or layer organ with non-organ sounds—it's one or the other; the Q factor of the mid EQ section which is too small.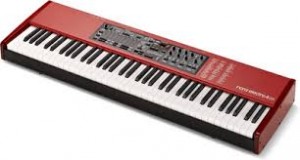 Image source:
thomann.de
Factory Reset:
The only way to restoring a Clavia Nord Electro 4 to its Factory content by using the Nord Sound Manager and downloading a Restore file. The Restore files are named as Nord MODEL Factory Restore vXX revY. Please click HERE to downloading the Nord Electro 4 Factory Restore file from the Nord website.
To start restoring the Clavia Nord Electro 4, first you should connect your Clavia Nord Electro 4 to the computer and launch the Nord Sound Manager. Then, click on the Restore icon in the Nord Sound Manager toolbar and a file browser will appear. Next, locate the downloaded file, select it and click Open. When a message a appears, click Restore to start initialization of the program.
Warning! When you execute this "Factory Reset" procedure, the all the content in the Nord instrument will be irrevocably replaced by the content from the Restore file. Do not turn off the Nord instrument or disconnect the USB connection while restoring is in progress. Be sure that you want to do this. Hopefully the article of "Reset a Clavia Nord Electro 4 Stage Piano" can help you.
Reference: Nord support