Phonic PAA3 Personal Audio Assistant Reviews
|
Phonic is a Taiwanese manufacturer that specialized in producing several professional audio devices such as mixers, microphones, amplifiers, speakers, sound card digital recording devices and other audio devices. Phonic brand has now also widely used by the lovers of audio professional, sound engineer, and musicians. We can find these products in a variety of activities that require a sound system equipment such as the stage or studio. To expand the product range, Phonic now also launched one of its latest products Phonic PAA3, an innovative digital tech electronic devices that are specific to analyze in terms of sound or audio.
How it works Phonic PAA3 is accurately analyze the sound or audio signals from various sources that the speaker is on stage, as FOH and monitors. So that the activation of these tools, will allow the sound engineer to analyze and formulate the sound system perfectly. Phonic PAA3 packed like a mobile phone, simple, practical yet technologically advanced. Inside are exceptional features such as power measurement calibration microphone, 1/3 octave real-time analyzer, 31-band EQ setting value display (boost / cut), RT60 measurement, phase checker, noise generator (pink noise), 1kHz polarity test signal, balanced output, memory, and other features.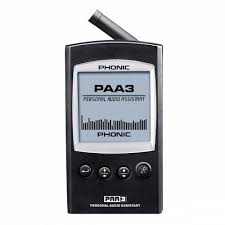 Image source: 
dv247.com
All functions and menus can be accessed through the four existing dial button on the panel. To upload the current setup information, simply connect a USB cable connection to a computer that has installed the PAA3 application. The PAA3 display screen made ​​wide enough and light making it easier to operate, even in dark conditions. In carrying out its functions, PAA3 require battery power that lasts up to 7 hours.
In essence, the existence of Phonic PAA3 very helpful to get a more optimal audio results and perfect during gigs. Required to become a professional handle the sound engginer or any interested musicians steeped in the sound structuring techniques. According to several user reviews, the PAA3 is very flat from as low as 20 hz to 20000 hz. The PAA3 offers a pink generator with memory for storing and recalling your freq curves, pop tones for polarity testing and SPL for those applications where there is tough DB limits . The PAA3 will help ensure that what your hearing and seeing is accuarant in what ever enviroment your end up in. The PAA3 is the perfect tool for the serious audio enginner.