Performing a Reset in Canon PowerShot SX280 12MP Digital Camera
|
Canon recently launched the Canon EOS 100D, which is the smallest DSLR, but also launched the PowerShot SX280 which is a type of compact camera with new features such as DIGIC 6 processor and a large optical zoom that is 20X which is kind of a 25mm lens (f 25-500mm / 3.5-6.8 lens) wide by 12 Mp backside-illuminated (BSI) CMOS sensor. In addition, there are new features such as Wi-Fi and GPS so that we can share photos quickly and easily connect to other devices such as a laptop, mobile phone or tablet without the need to plug in a cable. With the GPS feature, the user can add geotag information to your photos so that we can obtain information where our pictures taken. In addition, do not miss the FULL HD video recording feature on this camera is also there, with the speed of a video frame rate of 30fps or 60fps.
In fact, SX280 compact camera can also take pictures with the speed of 14 frames per second in Burst HS mode (but only for 7 shot) and shoot continuously at a speed of 3.8 fps in Auto mode program. The SX280 also offers noise reduction from its predecessor the SX260. The camera is also capable of taking 'lowlight' pictures properly, because it has an ISO up to 6400. LCD on this camera is not a touch screen, and a 3-inch 461k resolution. With a great variety of premium features, it is fair to Canon Powershot SX280 camera has a tag price of 329.99 USD.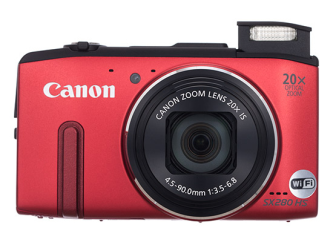 Image source: 
pcmag.com
Factory Reset:
To restoring Canon PowerShot SX280 HS to it's factory settings, conform to the following instructions:
Press [MENU] button
Move the zoom lever to choose the "Tools" tab, which is represented by a wrench and hammer icon
Select [Reset All] and then press the [Func. Set] button
A "Reset Settings to Default?" message appears. Highlight "OK" using the directional buttons and then press "Func.Set" to select it and restore your camera's factory settings.
Turn off the camera.
Remove the battery pack.
Allow the camera to remain without power for 30 seconds.
Reinsert the button-sized lithium battery.
Reinsert the battery pack.
Turn on the camera.
Read also "Resetting Canon EOS 100D DSLR Camera with EF-S 18-55mm III Lens" and another user guides. Hopefully the article of Performing a Reset in Canon PowerShot SX280 12MP Digital Camera useful for you.
Reference: Canon PowerShot SX280 manual