Performing a Global Reset in Roland FR-1x Piano type
|
Beginners, professionals and accordionists of all ages can now enjoy the compact V-Accordion with practically limitless expressions and full compatibility with the whole V-Accordion line. The FR-1x is the newest addition to the Roland's famous V-Accordion family which have helped revolutionize the accordion world. This lightweight instrument lets you instantly call up alternate tunings and registers, plus it comes loaded with a full set of accordion and other instrument sounds.
The FR-1x offers a new professional look and feel for players of all styles and levels, with a compact, lightweight size ideal for the strolling musician. It's combines the familiar sounds and nuances of a traditional accordion with the versatility of a modern digital musical instrument. Not only can you simulate up to seven different accordions, you can also create your own unique timbres and tuning systems including some amazing organ sounds using the four organ presets (Harmonic Bar) complete with rotary effect. No matter what style of music you play or what skill level you play it at, the Roland FR-1x V-Accordion is an incredibly fun and rewarding accordion to own.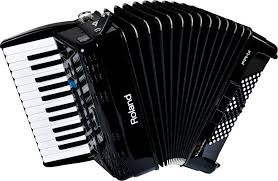 Image source:
rolandus.com
Factory Reset:
To restoring the factory settings your Roland FR-1x Piano type, just simply power on while simultaneously holding the treble registers [3] and [4] until "FCt" appears on the display. Finally, when all settings have been initialized, please turn off the unit and turn on again. The Factory Reset procedure is complete.
Warning! This procedure will return all of the settings to the values when the GT-PRO was shipped from the factory. Do not use this function unless you are certain that you want to do this. This also applies to the FR-1x Button type unit. Hopefully the article of "Performing a Global Reset in Roland FR-1x Piano type" can help you.
Reference: Roland FR-1x Piano type manual