Peavey Vypyr 15 Modeling Combo Amp Review
|
VYPYR 15 is one of the latest innovative breakthrough from Peavey. This product is a modeling amplifier with a power of 15W which contains a variety of great technology in it. Guaranteed to make guitarists smiled smugly as its content, which we can deliver a wide range of sound from this amp without having to use effects pedals.
The most surprising of VYPYR15 is the availability of 24-channel amplifier modeling for presets clean or distorted, which makes users can feel the sound from a variety of famous amplifiers. There are also many options amplifier effects in this one, such as Tremolo, Chorus, Flanger until Octaver which can be in-balance with Delay and Reverb that exist in the amplifier. Another advantage is that Tempo Tap presets allow you to adjust the tempo of the delay with the exact time in any song.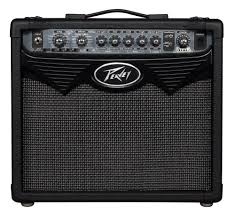 Image source: 
en.audiofanzine.com
VYPYR 15 also features an onboard tuner in it, so if you use it do not have to worry if you do not bring the affair tuning pedal tuner. In the auxiliary, there are Aux inputs that make you can also play backing tracks into this amplifier, as well as aux out for headphones and recording. Complete!
According to several user reviews, they said this is a perfect amplifier to use for whatever style of music you play whether it be blues, metal, hard rock, classic rock, or whatever. This is a great value for the money because Peavey could easily increase the price of this piece of equipment and still get it to sell very well. See this technology applied amps, it is very recommended for you the guitarist to try it, or even have it. Guaranteed to satisfy!
Read also "Laney AH80 Audiohub Amplifier Combo Review" and another gear reviews. Hopefully the article of Peavey Vypyr 15 Modeling Combo Amp Review useful for you.