Quick Guide To Open Fuel Door/Gas Tank in Honda Accord (2007-2022)
|
Last Updated on June 12, 2022 by Nick
Hey yo! What's going on guys? The gas tank cap or fuel door might be a little tricky to open, especially when renting or purchasing the Honda Accord for the first time.
There is a lot of folk out there who have gone through the same situation, so don't worry about it. So here, I'll show you how to open it and give you some background information about it.
How To Open Gas Tank in the Old Accord
The gas cap on an older Honda Accord (2007, 2008, 2009, 2010, 2011, 2012, 2013, 2014, 2015, 2016, and 2017 model years) can be opened in this manner. So what you want to do is:
First, I'm sitting in the driver's side part of the vehicle behind the steering wheel 
Then what I'm gonna do is I'm just gonna look down towards the floor and locate the release lever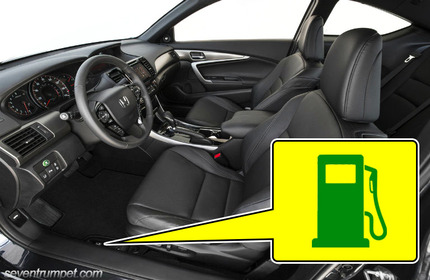 You'll notice that it says push and pull. In order to open up your gas cover, you simply push the lever and it will open up the fuel door 
The New Accord Fuel Door Release Guide
Time needed: 1 minute
Here, I'll teach you how to open the gasoline door on the new Honda Accord model. It's a cinch to do. So here's how you do it:
Unlock your car

First, got the car door unlocked and you're going to go to the driver's side of the vehicle and locate the gas door

Push the fuel door

Then you're going to go right to the back of its push on the back end of that door and it's going to pop open 


Put in the gasoline

There's no gas cap and that's normal so you'll fill up the vehicle with gasoline

Close the gas door

Once you're done, to close it you're going to just kind of push it closed and then give it a nice little push and you'll feel it lock back into position
Locating & Using The Gas Flap Release
In the most recent Honda Accord models (2018, 2019, 2020, 2021, 2022), a fuel door emergency wire is included as standard equipment. If you get it stuck, you might have trouble. So, if your battery is dead or malfunctioning, you can use this way to help you out. Let's get into it now.
Begin by releasing the latch on your trunk
Open the trunk's ceiling on the driver's side from where your gas door is located after you've obtained your trunk
You'll see a green cable for your car from here on out. It may be a different shade of green for others, but I see it as green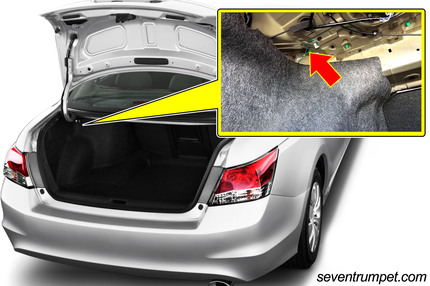 That green cord will unlock the door, allowing me to unlock the fuel door with no need to turn on the engine or anything else
FAQ – Honda Accord Gas Tank
What sort of gas should I be using In my Honda Accord?
Unleaded gasoline is safe to use in Honda Accord engines since it is approved and developed to be used in these vehicles.
What is the capacity of the Honda Accord's fuel tank?
Fuel-driven models of the Honda Accord have a 14.8-gallon tank. The Accord Hybrid variants have a 12.8-gallon gas tank installed as part of the car. 
How far can a Honda Accord go on a full tank?
The Honda Accord has a range of 480 miles per tank. LX and EX-L versions get 30 mpg in the city, 38 mpg on the highway, and 33 mpg combined. The 2022 Accord 2.0-liter turbo gets 22 mpg in the city, 32 mpg on the highway, and 26 mpg combined.
How to save gas on Honda Accord?  
Keep your speed down to or below the legal limit and maintain a steady pace to save money on petrol. Use the cruise control while driving for a lengthy period of time. Fuel is wasted when drivers engage in aggressive driving practices such as speeding, squealing at bends, and slamming the gas pedal.
So that we've shown you how to open up the gas tank cover on your Honda Accord. Keep in mind again these are just guidelines. If you do need further details please refer to your Honda Accords owner's manual. Thanks for taking the time to visit this site. Until next time, cheers!