Nikon D7200 Factory Reset
|
Nikon D7200 Factory Reset – On March 2, 2015 ago, Nikon announced a new DSLR camera sensor APS-C the Nikon D7200. This camera was announced without the frenetic and there is an impression of this camera is not so important because the D7200 was announced after a major exhibition of photography CP + in Japan. Nikon D7200 does not offer anything new / innovative.
I get the impression D7200 just a refinement / improvement of the Nikon D7100. In the design of the body of the D7200 is very similar to its predecessor the Nikon D7100 and Nikon D7000. The main improvement of the capacity of the buffer is more spacious. This improvement allows the photographer to take pictures in a row with a total of 18 RAW images, and 100 photo JPG format before the buffer is full. In addition, the autofocus system is also upgraded to version II, which is able to autofocus in a very dark place (-3 EV) such as the Nikon D750 camera.
Nikon D7200 Factory Reset:
To restoring Nikon D7200 to its default settings, just hold down the [ISO button] button and the [+/- Exposure Compensation button] together, until the control panel turns off briefly while the camera resets itself to the factory default settings.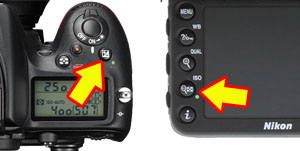 Warning! Do not use this function unless you are certain that you want to do this. Hopefully the article of Nikon D7200 Factory Reset can solve your problem. Good Luck! 😀