Nikon COOLPIX S3700 Factory Reset
|
Nikon COOLPIX S3700 Factory Reset – Early 2015, Nikon announced the ultracompact cameras that enlivened by the presence of the Nikon Coolpix S3700. Coolpix S3700 is a camera that is in addition equipped with WiFi and NFC connectivity, bringing excellent specifications. 20.1MP CCD sensor resolution camera and 8x optical zoom lens equipped with a Lens-Shift Vibration Reduction technology that is expected to reduce the impact of camera shake when shooting.
Using a type of TFT-LCD screen fixed to the screen width of 2.7 ". The screen serves as a live view both for shooting and for recording video because the camera does not have a viewfinder. This screen has a 230,000 dot density which gives clarity to the picture. The results of the shooting will be processed through the processor and stored on the memory media SD / SDHC / SDXC and internal memory.
Nikon COOLPIX S3700 Factory Reset:
To restoring the Nikon COOLPIX S3700 Digital Camera to it's default settings, conform to the following instructions:
Press [Menu] button
Press the [</ dial left] button to move to the tab
Select "Setup" by using [∨/ dial down] button and press ok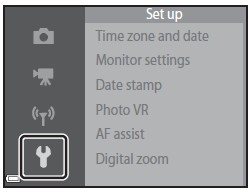 Scroll down and highlight the "Reset All" and then press ok button
Caution! This function will not change the date, language, time, and user settings. Be sure that you want to do this. Do not use this function unless you are certain that you want to do this. Hopefully the article of Nikon COOLPIX S3700 Factory Reset useful for you. Good Luck!