New Mazda CX-9 Oil Change Service Due Wrench Light Reset
|
New Mazda CX-9 Oil Change Service Due Wrench Light Reset – The Mazda CX-9 is a crossover in the middle class of the Japanese car brand Mazda. The model was introduced in 2007 and in 2015 the fifth generation was announced. In 2007 the production of the first generation CX-9 started, equipped with a 3.5-liter Cyclone V6. Due to disappointing sales figures, the Mazda CX-9 is already being replaced by the second generation in 2008.
The third generation was presented at the 2009 New York International Auto Show. The third generation only includes cosmetic changes, such as a new front bumper, a new, more luxurious interior and a renewed temperature system. The technical characteristics remain the same. In 2013, the third generation was replaced by the fourth generation.
2016-2018 Mazda CX-9 Oil Change Service Due Wrench Light Reset:
To turning off the Oil Change Maintenance Service Due Light on 2016 2017 2018 2019 Mazda CX-9, conform to the following instructions:
Turn the ignition key to "ON" position without starting the engine, If your vehicle has a Smart key button, press the "Start" button twice without touching the brake pedal.
Select APPLICATION on the center dash screen to enter to the menu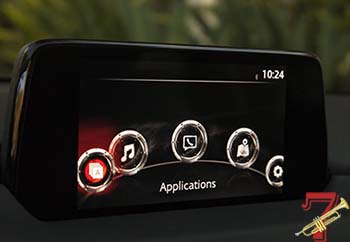 Select VEHICLE STATUS MONITOR
Select MAINTENANCE 
Select SCHEDULED and then select RESET
When a confirmation dialog appears, select "YES"  to confirm
Next, back to the MAINTENANCE menu and select OIL CHANGE to reset the oil life
Select RESET and select "YES"  to confirm
For more details, please watch the following video:
This procedure should be work on the latest generation of Mazda CX-9 (2016 2017 2018 2019) model years. Hopefully, the article of New Mazda CX-9 Oil Change Service Due Wrench Light Reset can solve your problem. Good Luck!