Mercedes Benz GLK-Class GLK350 GLK250 Service Light Reset
|
Mercedes Benz GLK-Class GLK350 GLK250 Service Light Reset – The Mercedes-Benz GLK (internal name: X 204) is a compact SUV of the German car manufacturer Mercedes-Benz. It is based on the C-Class platform (204 series) and has been available on the European market since October 2008; in America, the GLK is offered since January 2009. Two near-series studies were issued in January 2008 at the Detroit Motor Show.
The production site until November 2011 was exclusively the factory in Bremen. Since December 2011, the GLK is also produced in Beijing. According to Mercedes-Benz, the GLK stands for SUV luxury compact class. The introductory price for the introduction was 40,341 euros, over time, the starting price could be reduced to 35,462 euros with the offer of weaker motorized models. For the facelift, the basic price was raised to 36,235 euros.
Mercedes Benz GLK-Class GLK350 GLK250 Service Light Reset:
To reset Service Interval Warning Light on 2010 2011 2012 2013 2014 2015 Mercedes Benz GLK-Class GLK350 GLK250, conform to the following instructions:
Close all doors, windows, hood and trunk
Turn the ignition to the position 1 (If your vehicle has a Smart key button, press the "Start" button once without touching the brake pedal)
Press the system selection button repeatedly until the menu item vehicle MILLAGE is displayed in the multi-function display.
Press and hold the  (ACCEPT CALL) button for a second
While holding the  (ACCEPT CALL) button press and hold the OK button.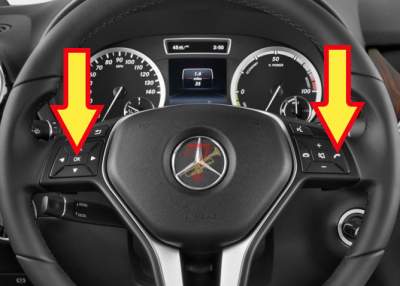 After several seconds the service menu should come up.
Scroll down and select the ASSYST PLUS
Select FULL SERVICE
Scroll down to select CONFIRM SERV
Select appropriate OIL GRADE being used
Select YES and confirm it
Turn the ignition off and then start the engine to verify the indicator has been reset.
For more details, please watch the following video:
This procedure should apply to the third generation of Mercedes Benz GLK-Class GLK350 GLK250 (2010 2011 2012 2013 2014 2015 model years). Hopefully, the article by Mercedes Benz GLK-Class GLK350 GLK250 Service Light Reset can solve your problem. Good Luck! 😀