Initialize the Sony ILCE-QX1/ DSC-QX30 to Factory Preset
|
Sony has officially launched their latest two-lens camera that is E-mount ILCE-QX1 and DSC-QX30, for $ 400 and $ 350. ILCE-QX1 camera lens is actually a whole camera that does not have an LCD display. Instead, the smartphone screen is used both Android and iOS-based devices, which also functions as the control center of the device. Interestingly, the ILCE-QX1 lens can be changed because the product does have mounting mirrorless cameras made ​​by Sony (E-mount), complete with an image sensor APS-C type in it. This camera lens features a 20.1-megapixel APS-C CMOS Exmor built-in sensor with Sony BionzX processor that is claimed to increase the noise reduction for shooting in dim light. This lens also features RAW mode and flash pop-ups.
Series DSC-QX30 is a lens-style camera from Sony that offers a 30x optical zoom lens, and use the Exmor R CMOS /2.3 1-inch sensor, with a 24mm wide-angle lens. QX30 also uses Sony's Clear Image Zoom that makes it possible to zoom up to 60x. Sony also equip with features Optical SteadyShot image stabilization to minimize camera shake when zooming. The QX30 camera can also record full-HD video at frame rates of 60p. The zoom feature is very "powerful" because it is paired with the AF lock-on feature so it is very fast to perform continuous shooting at up to 10fps. You as a photographer you will be able to capture fast-moving action with accurate focus in a split second.
Image source: 
photographyblog.com
QX series lenses can be paired with a smartphone such as the camera lens-style. Sony says that the QX series, utilizing the latest 5.0 mobile app PlayMemories Sony (available for Android and iOS devices) to connect wirelessly to a smartphone. This application can also be activated by using a compatible NFC device. Sony also provides a number of applications to transform the smartphone into a real-time viewfinder with ability to take photos, adjust zoom, set the camera shutter, video recording settings and other camera's basic controls. More important after the picture is taken from QX1 and QX30 camera lens-style, it can automatically be stored either on the phone or camera.
Factory Reset:
To restoring your Sony ILCE-QX1/ DSC-QX30 to it's factory settings, conform to the following instructions:
Turn on the power of the camera.
Locate the Reset button on your Sony ILCE-QX1/ DSC-QX30 camera.
Press and hold the button for three seconds, and then release it to reset the camera.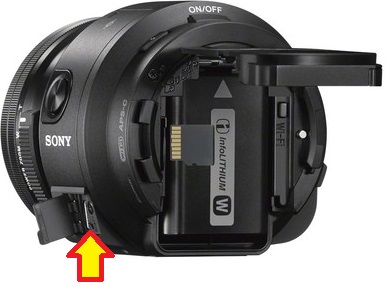 Read also "Performing a Hard Reset in Sony Cyber-shot DSC-H300" and another user guides. Hopefully the article of  Initialize the Sony ILCE-QX1/ DSC-QX30 to Factory Preset useful for you.