How To Restoring The Factory Settings Boss DR-880 Dr. Rhythm
|
Last Updated on June 20, 2022 by Nick
The BOSS DR-880 Dr. Rhythm is a rhythm-programming powerhouse. This drum machine is small, portable and loaded with world-class drum, percussion, and bass sounds from BOSS's famous SRX library. The sounds themselves are a little dated, but remain a draw for the product. Also, users have praised it for the sheer number of drum and percussion sounds and the decent built-in effects. This drum machine is like having 400 different drum kits at your fingertips – perfect for live performance use and at-home practice. The DR-880 also has a Groove Modify feature that allows discrimination between groove and triplet feels.
According to several user reviews of Boss DR-880 Dr. Rhythm, it gets some compliments for the great sounding drumbass; Well Thought Out Os; Three footswitch inputs and an instrument input makes this drum machine well suited for live performance. But this drum machine also gets some complaints for the EQ and reverb are the only effects offered; Dvd Almost Necessary; does not have many effects to apply to sounds.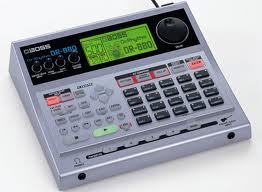 Image source: 
musiciansbuy.com
Factory Reset:
With playback stopped, press Edit button and then select "FACTORY RESET". While the message "Factory reset?" appears in the display, press Enter button.
Warning! This procedure will return all of the user data to its factory-set condition. So be sure to back up any information you wish to keep. Hopefully the article of "How To Restoring The Factory Settings Boss DR-880 Dr. Rhythm" was useful.
Reference: Boss DR-880 Dr. Rhythm Manual