How To Reset Yamaha S70XS Synthesizer
|
Yamaha has launched the XS-labelled, S-series keyboards, currently comprising the S70XS and the S90XS. The only difference between the two is the length of keyboard, with the 70 having a 76-note note weighted hammer-action keyboard and the 90 having an 88-note board. The Yamaha S70XS is a weighted synthesizer that gives you a lot of features and an enormous Yamaha S70XS amount of diversity too. The Yamaha S70XS provides enough quality and features for a professional musician to use. But it should not be limited to just the professionals, as the hobbyist and the casual player can certainly get a lot of enjoyment out of playing this.
According to several user reviews, they have praised a Yamaha S70XS for the great sounds including stellar new S6 piano; Super-easy to create splits and layers on the fly; Expanded control surface functionality for DAWs. Also, some users have complained it for the nearly as wide as some 88-note keyboards; Small display; Deep sound editing requires computer software.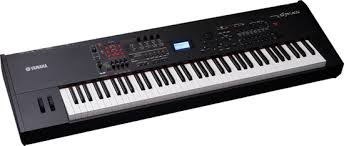 Image source:
dolphinmusic.co.uk
Factory Reset:
To restoring a Yamaha S90XS to it's factory settings, first press the [UTILITY] button. Use the [CURSOR] button to select "Fctry Set" menu, and then press the [ENTER] button. The Factory Set display will appears, to execute the function press the [ENTER] button. The Factory Reset procedure is complete.
Warning! When you execute these procedues, all the data that you created in each mode or saved to internal flash memory will be erased. So be sure to back up any information you wish to keep. This procedure also applies to the S90 XS unit. Hopefully the article of "How To Reset Yamaha S90XS Synthesizer" can help you.
Reference: Yamaha S90XS manual