How To Reset The Line6 POD HD Desktop To Restoring The Factory Settings
|
This multi-effects was released earlier in May, 2011. Line6 POD HD Desktop is one of many descendants reminiscent of its earlier bean-shaped cousin, the original POD in '97 and while countless variants have landed since, the concept's still the same – simulation, with the operative words 'better' and 'more'. This pedal includes more amp models and even more effects – based off of their M9 and M13 stompbox modelers known as "M-Class" effects.
According to several user reviews, the Line6 POD HD Desktop gets some  compliments about the compact design; Versatile; Good Selection Of Effects; Excellent Sound Quality. But it's also gets a complain about that contruction breaks easily.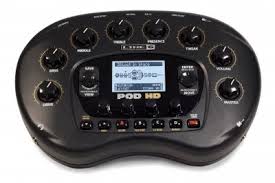 Image source: sonicscoop.com
Factory Reset:
To Restoring The Factory Settings of Line6 POD HD Desktop, you must power on  POD HD while simultaneously holding the hold down the Nav. Pad-left arrow button.
Warning! This procedure will restore all global settings to their factory default value. So make sure to do this procedure. Hopefully the article of "How To Reset The Line6 POD HD Desktop To Restoring The Factory Settings" was useful.
Reference: Line6 POD HD Desktop Manual