How To Reset The Korg Kaossilator Pro To Restoring The Factory Settings
|
Korg unveiled the Kaossilator Pro at NAMM on 14 January 2010. It's a much-improved version that offers a variety of new features and looks all set to build on the success of the original KO-1. The device has a metal casing similar to the Kaoss Pad 3 (KP3), but its touchpad is back-lit with green lights instead of the KP3's red lights. With 200 sound programs, an Electribe-inspired gate arpeggiator, and 4 loop recording banks that can record external audio sources, the KORG KAOSSILATOR PRO is packed with features that make it ideal for both live performances and premium productions.
According to several the user reviews, the Korg Kaossilator Pro gets some compliments about Easy To Use, Sampling capability, MIDI I/O; Built-in effects; Solid body; Good sound and Quality. But The Korg Kaossilator's also got some complaint about the price is too expensive; Hard To Sync Cd Player; Limited Drums; MIDI implementation could be better.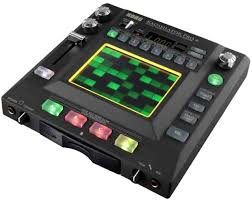 Image source: synthtopia.com
Factory Reset:
To Restoring The Factory Settings of Korg Kaossilator Pro, you must to power on while simultaneously holding the (1) + (2) +(RECORD) buttons. D button will be flashing and then press it. When the display says P.off, Power off and on the KAOSSILATOR PRO.
Hopefully the article of "How To Reset The Korg Kaossilator Pro To Restoring The Factory Settings" was useful.
Reference: Korg Kaossilator Pro Manual