How To Reset The Boss RC-505 Loop Station To Restoring The Factory Settings
|
Last Updated on June 20, 2022 by Nick
Although most loopers sit on the floor like stompboxes, the RC-505 is a tabletop unit, which leaves the unit feeling altogether small and borderline flimsy in comparison to the beefcake units you'd ordinarily get for the price.  The RC-505 offers unlimited overdubs and can store as many as 99 5-track stereo recordings. Weighing just over three pounds and measuring 16 and a half by 8 and a third inches, it's pretty unassuming for a looper with the power to support five independent tracks.
According  to several user reviews, the Boss RC-505 has some axcess of the features such as intuitive controls; helpful features like Loop Quantize and plenty of effects ensure that this table-top; hand-operated unit has ample to offer vocalists. But for guitarists, the difficulty in hands-free control really limits what the pedal offers. So I think this pedal is less suitable for the guitarist.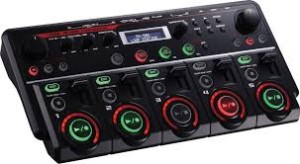 Image source: rolandconnect.com
Factory Reset:
To Restoring The Factory Settings of Boss RC-505 Loop Station, you must turn on the pedal and push the System button a few times until the displays appear "Factory Reset" and then press Write button. Next, select the desired range of parameters you want to reset (SYSTEM + MEMORY, SYSTEM, MEMORY) by using the Memory/Value knob and press Write button. Finally, Turn off the pedal while "Please turn off power" appears in the display.
Caution! Factory Reset will return the system settings to their factory-set
state, and will erase (initialize) all phrase memories. So be sure to back up any information you wish to keep. Hopefully the article of "How To Reset The Boss RC-505 To Restoring The Factory Settings" was useful.
Reference: Boss RC-505 Manual