How To Reset The Boss ME-50B To Restoring The Factory Settings
|
The Boss ME-50B is a multi effects guitar pedal that has just about everything guitar effect you can think of. It comes with COSM puts world-class bass effects in a rugged floor unit with easy pedal-style control. Effects are divided into 6 sections and can be edited using 23 knobs and controlled via three built-in footswitches and an assignable expression pedal, to giving bassists a range of unique and powerful tones.
According to several user reviews of Boss ME-50B, this pedal gets some compliments such great sounding; easy-to-use floor processor; compact design; and good selection of effects. But this pedal also gets some complaints such not responsive; patches either factory or by your own design, there is a noticeable delay.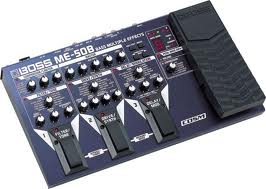 Image source:
effectsdatabase.com
Factory Reset:
To Restoring The Factory Settings of Boss ME-50B, first power on while simultaneously holding the Bank (
) and Write buttons until "F" appears in the display and then press Write button. While the MEMORY indicator flashes press Write button again.
Warning! This procedure will be restore all of the ME-50B's settings to what they were at the time the unit was shipped from the factory. Hopefully the article of "How To Reset The Boss ME-50B To Restoring The Factory Settings" was useful.
Reference: Boss ME-50B Manual