How To Reset The Behringer X V-Amp To Restore The Factory Presets
|
Last Updated on June 20, 2022 by Nick
The X V-AMP is a floor-based unit not only featuring the best V-AMP models of celebrated guitar amplifiers and speakers, but also providing the most desirable stomp box simulations combined with a multi-mode expression pedal. The expression pedal offers either realtime control of effects or wah/volume function. A special acoustic simulation and an amp bypass function are also included. It's a small pedal with a lots of effects.
According to several user reviews, The Behringer X V-Amp has some excellent features such as The controls are intuitive and very easy to use; The presence of a pedal gain / volume / expression. But it also has some drawbacks such as, there are no USB or MIDI connections; the lightweight construction; One-second signal drop-off when you change simulations.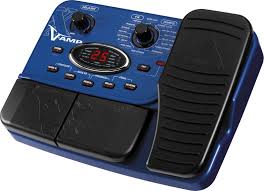 Image source: zzounds.com
Factory Reset:
To Restore all Factory Presets the Behringer X V-Amp, power on while simultaneously holding the Tap and Store buttons for a few seconds.
Hopefully the article of "How To Reset The Behringer X V-Amp To Restore The Factory Presets" was useful.
Reference: Behringer X V-Amp Manual