How To Reset Samsung Galaxy NX Mirrorless Digital Camera
|
Last Updated on June 20, 2022 by Nick
Samsung Galaxy NX is the world's first mirrorless camera (with lenses that can be replaced) that uses the Android 4.2.2 Jelly Bean operating system and 4G LTE connectivity. The design is also more like a DSLR camera, compared to the Galaxy Camera is like a pocket camera. Photographic skills owned by Galaxy NX itself is also quite impressive. Not so surprising given the similar specifications like the Samsung NX300 which was recently launched.
Galaxy NX has been equipped with APS-C CMOS 20 megapixels sensor, DRIME IV image processor, and features the Advanced Hybrid autofocus for photos and performance results are reliable and comparable to other mirrorless cameras. Speed ​​performance becomes one of the priorities of Samsung with the support of shutter speed, which reaches 1/6000 seconds and continuous shooting of 8.6 frames per second.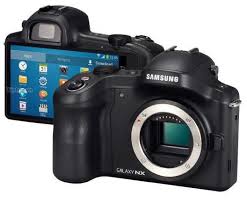 Image source: 
petapixel.com
You can use a lens with Samsung NX mount which has now reached 30 lenses, including 2D / 3D lens and 10mm fish-eye lens which also recently announced. For video, you can record Full HD 1080p video with stereo sound. The absence of physical buttons on the back of the Galaxy NX makes it more like a smartphone when viewed from behind. In exchange, you get a 4.8-inch HD + display with 921 thousand point density. So just like the Galaxy Camera, all camera functions can only be accessed via the menu on the screen. You can also record images simply by touching the screen, as in the NX300. Samsung also embed an electronic viewfinder as an alternative when taking photos in daylight.
To ensure excellent performance of Android, Samsung embeded 1.6 GHz quad-core processor, and 2GB of RAM supported. This means the Galaxy NX will be more than adequate if only used for editing photos and videos. In fact if you want to play a variety of games smoothly on the Galaxy NX. You will also find some of the camera features previously only available in the latest Galaxy smartphone, such as Story Album, Sound & Shot, Animated Photo, and so on. In total there are 30 smart mode (or scene modes on the camera other brands) to help produce the best photos in different situations.
 Factory Reset:
To restoring Samsung Galaxy NX to it's factory settings, conform to the following instructions:
From the Home screen, touch Apps ➔ Settings ➔ Accounts tab ➔ Backup and reset →  Factory data reset ➔ Reset device
Read also "How To Reset SAMSUNG WB1100F, WB50F and WB35F?" and another user guides. Hopefully the article of How To Reset Samsung Galaxy NX Mirrorless Digital Camera useful for you.