How To Reset Pentax Q-S1 Mirrorless Digital Camera
|
Ricoh officially introduced the 'Pentax Q-S1' is a show with a more trendy retro designs and a fresh color options. Pentax Q-S1 adopt BSI-CMOS sensor of 12 megapixels, measuring 1 / 1.7-inch which is also used in the Q7. The difference, the Pentax Q-S1 sensor has received an additional mechanism of DR II (Dust Removal II) to clean up the dust on the sensor area. There are also support of SR (Shake Reduction), with a gyro sensor to combat the effects of hand shake which makes the image less sharp.
Improved image processor also given to produce better pictures. With the latest processors Engine Q, Pentax Q-S1 is claimed to suppress noise at high ISO better. ISO options available are still the same as the Pentax Q7 is among ISO 100 to ISO 12800. In addition to the ISO option, the size of the screen is also identical with the Q7, which is 3 inches. To make the activity more fun to photograph, Pentax incorporate Smart Effect mode that offers a wide choice of filter effects in camera. The most interesting feature is Bokeh Control. As the name implies, this feature will help you to produce images with bokeh effect using any lens.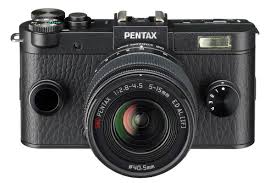 Image source: 
digitaltrends.com
Q-S1 also features 21 scene modes for various shooting conditions and HDR mode. For those who love to "bombard" the subject when taking pictures, this little camera can capture images without interruption up to 5 photos per second. This camera is available in 40 color combinations, with 5 color choices of the body, and 8 color options for the grip. For the body color, there are black, gunmetal, white, gold and silver. While the hand grip will be available in a choice of black, cream, red, yellow, green, blue, burgundy, and pink. So you will be able to have the Q-S1 with a color that is preferred.
Factory Reset:
To restoring Pentax Q-S1 to it's factory settings, conform to the following instructions:
PRESS [Menu] button
Use E-dial to switch to "Wrench icon"
Select "RESET" by use the [V/ dial down] button
Press OK button
Read also "Resetting Pentax KS1 DSLR Camera" and another user guides. Hopefully the article of How To Reset Pentax Q-S1 Mirrorless Digital Camera useful for you.
Reference: Pentax Q-S1 manual