How to Reset Panasonic Lumix DMC-GX7 Mirrorless Micro Four Thirds Digital Camera
|
Last Updated on June 20, 2022 by Nick
The presence Lumix GX7 seemed to answering fans longing Panasonic MFT cameras. Because the Panasonic Lumix GX7 brings a myriad of new features and innovations in order to captivate the hearts of the fans of the Micro Four Thirds sensor camera. From the physical side, the Lumix GX7 already looks more cool with a body of sturdy magnesium alloy. The body design and the retro look is now the most visible changes in the Panasonic Lumix GX7 have fitted an electronic viewfinder for shooting as well as a flexible screen that can be rotated to the bottom.
Panasonic Lumix GX7 comes with the latest sensor from Panasonic, namely Digital Live MOS sensor with a resolution of 16 megapixels. This sensor technology is claimed to be better than the Lumix GX1 sensor with better image quality, more sensitive to light and the images are minimal noise at high ISO settings. This ability can be achieved thanks to Fine Semiconductor technologies that can enhance the color saturation to about 10%, and improvement of chip lens which is now more sensitive to light by about 10%.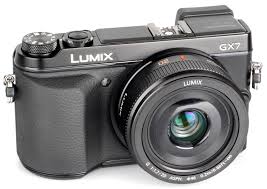 Image source: 
ephotozine.com
While noise at high ISO can be minimized due to pixel circuit modules, and digital signal processing module has been updated, so as to reduce noise by approximately 25% compared to the Lumix GX1. Venus Engine processor that had also been in the ability to suppress noise due to technology Multi-process NR (Noise Reduction), and Detail Reproduction Filter Process. The collaboration between Digital Live MOS sensor and Venus Engine, making GX7 can take pictures in dim conditions up to ISO 25,600.
For those who prioritize speed on a camera, the Panasonic Lumix GX7 now have a very short startup time of 0.5 seconds. For photographing sports events, the Panasonic Lumix GX7 able to take pictures with the speed of 5fps. With autofocus feature tracking system, the speed is slightly decreased to 4.3 frames per second. Surely that is more important is the focus accuracy. One very interesting feature of the Panasonic Lumix GX7 is its electronic viewfinder. This viewfinder is very special because it is made flexible and can be set to up to 90 degrees. It makes GX7 the first mirrorless camera with an electronic viewfinder that can be rotated.
In addition, you also can use it to record video in Full HD format, as well as the available features for creativity which consists of 22 filter effects, Creative Panorama, Time Lapse, Stop Motion and Clear Retouch to improve the images directly in the camera. The Connectivity is also not forgotten. Just like GF6, Lumix GX7 also bring features WiFi and NFC for easy transfer of images to a PC / smartphone / tablet and share pictures to social networks.
Acording to several user reviews, they have praised Panasonic Lumix DMC-GX7 for the Great picture quality; Smooth video; Tiltable electronic viewfinder; Tiltable LCD; Versatile. Also some user have complained it for the weak built in flash; No external mic or headphone jack for video recording; Some poor results when shooting in Creative Panorama mode; In body stabilization not available for image composition; Not the smallest system camera.
Factory Reset:
Follow these steps, to restoring Panasonic Lumix DMC-GX7 to its factory default set:
First, the camera must be in "record" mode
Press [Menu/Set] button
Press [Down] button to select the "SETUP" menu, that is the one with a "spanner" icon.
Now press the [Right] button
Press few times [Down] button until you see "RESET" option there
When you select the RESET, press [Right]  button and then select "YES"
Press [Menu/ Set] button
Read also "How to Reset Canon EOS 7D Mark II DSLR Camera" and another user guides. Hopefully the article of How to Reset Panasonic Lumix DMC-GX7 Mirrorless Micro Four Thirds Digital Camera useful for you.