How To Reset Panasonic Lumix DMC-FZ70 Digital Camera
|
Prosumer camera with a long zoom lens has the distinct advantage of being able to meet the needs for portrait, landscape until candid, which is suitable for photography enthusiasts. Well, for those of you who like the prosumer camera that is capable of long zoom lens, Panasonic has now presenting the Panasonic Lumix DMC-FZ70 series that comes with latest features.
Panasonic Lumix DMC-FZ70 comes with packing a DSLR-style body design. Capitalize CMOS 1 / 2.3-inch sensor and a Venus Engine processor, this camera is not only capable of producing images at a maximum resolution of 16 megapixels, but it also can record Full HD 1080i60. For better sound recording, the Panasonic Lumix DMC-FZ70 has a Dolby Digital Stereo Creator to support wind shield on the microphone. With the combination of both features and audio technologies, the result of a sound recording Panasonic Lumix DMC-FZ70 is claimed 70% better than the previous generation of Panasonic prosumer cameras.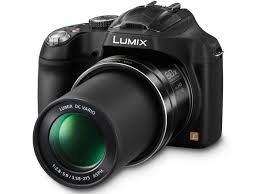 Image source: 
panasonic.com
In the sector of the lens, the Panasonic Lumix DMC-FZ70 using a lens with a range of 20mm-1200mm, equivalent to 60x optical zoom. Thanks to this lens, the Panasonic Lumix DMC-FZ70 is a prosumer camera with a lens range of the longest in its class. To maintain the quality of the shot at maximum zoom position, this camera has been equipped with the Intelligent Resolution technology and the support features POWER OIS image capture to minimize blur due to hand shake. Panasonic Lumix DMC-FZ70 also comes with Creative Control mode, and Creative Retouch which provides 15 choices of effects filters that can be used in image and video modes.
Factory Reset:
To restoring Panasonic Lumix DMC-FZ70 to it's factory settings, conform to the following instructions:
Press [MENU/SET] button
Press < / > button to select "Setup" menu and then press [MENU/SET] button
select "Reset" and then press [MENU/SET] button
When a message appears select "Yes" and then press[MENU/SET] button
Read also "Resetting Canon PowerShot A1400 16.0 MP Digital Camera" and another user guides. Hopefully the article of How To Reset Panasonic Lumix DMC-FZ70 Digital Camera useful for you.
Reference: Panasonic Lumix DMC-FZ70 manual