How to Reset Oil Service Light on Mercedes Benz Metris 2016
|
How to Reset Oil Service Light on Mercedes Benz Metris 2016 – The Mercedes-Benz 447 series is the successor model of Viano- and Vito models, the third generation of vans of German automaker Daimler AG is (series 639), which is advertised by the manufacturer as a minivan. The car version of this series is again marketed as the V-Class, just like the first generation (638 series), while the model in its commercial vehicle variant continues to be marketed as a Vito.
For the first time, this generation of the small van from Mercedes-Benz is also being offered in the USA as Metris. The vehicles are offered with two different wheelbases, 3200 mm and 3430 mm. Unlike its predecessor, the V-Class is only offered with four-cylinder engines, these exclusively as diesel.
How to Reset Oil Service Light on Mercedes Benz Metris 2016:
To reset Service Interval Warning Light on 2015 2016 2017 2018 2019 Mercedes Benz Metris, conform to the following instructions:
Close all doors, windows, hood and trunk
Turn the ignition to the position 1 (If your vehicle has a Smart key button, press the "Start" button once without touching the brake pedal)
Press the system selection button (house icon located on the left of the steering wheel) repeatedly until the menu item TRIP is highlighted in the multi-function display. Within 5 seconds, press the OK button.
Press and hold the  (ACCEPT CALL) button for a second
While holding the  (ACCEPT CALL) button press and hold the OK button.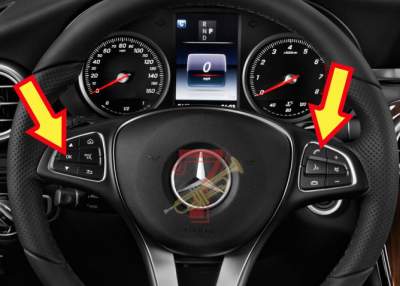 After several seconds the service menu should come up.
Scroll down and select the ASSYST PLUS
Turn the ignition to the ON position (position 2 or press the "Start" button once again) without starting the engine
Select FULL SERVICE
Scroll down to select CONFIRM SERV
Select appropriate OIL GRADE being used
Select YES and confirm it
Turn the ignition off and then start the engine to verify the indicator has been reset.
For more details, please watch the following video:
This procedure should apply to the third generation of Mercedes Benz Metris (2015 2016 2017 2018 2019 model years). Hopefully, the article by How to Reset Oil Service Light on Mercedes Benz Metris 2016 can solve your problem. Good Luck! 😀