How to Reset Nikon D5500 DSLR Camera
|
How to Reset Nikon D5500 DSLR Camera – Nikon is still survive become one of the biggest brand in producing quality products and sophisticated cameras. Nikon has recently begun introducing new DSLR camera with Nikon D5500 name. The camera itself is directly introduced at CES 2015 annual event. Nikon DSLR D5500 comes with touch screen technology. It is taken Nikon to catch up with the opponent products, namely Canon, who are already using a DSLR camera touch screen first.
Nikon D5500 itself comes with a CMOS sensor 24,4MP who claimed directly by Nikon is capable of capturing images at speeds of up to 5 frames per second. In addition, the Nikon D5500 also supports technology 39-point autofocus system. Of course, with this technology the photographer is able to produce better images and more detail. Nikon D5500 DSLR camera itself is expected to be sold at a price tag of around $ 899 for the body only.
How to Reset Nikon D5500 DSLR Camera:
To restoring Nikon D5500 to its factory settings, just hold down the [Menu button] button and the [Information button] button together, until the control panel turns off briefly while the camera resets itself to the factory default settings.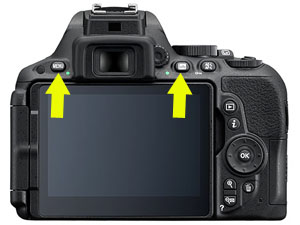 Caution! Be sure that you want to do this. Do not use this function unless you are certain that you want to do this.  Hopefully the article of How to Reset Nikon D5500 DSLR Camera useful for you.