How to Reset Maintenance Reminder on Toyota RAV4 (2016-2018)
|
How to Reset Maintenance Reminder on Toyota RAV4 (2016-2018) – The Toyota RAV4 is a D-segment sports utility vehicle produced by the Japanese manufacturer Toyota Motor Corporation. RAV4 stands for "Recreational Activity Vehicle 4-wheel drive" and found the segment of compact SUVs: the urban compact SUV. Its first version was made in 1994 and had great success in Japan, the United States, and the European Union.
The Fourth generation of Toyota RAV4 was released worldwide in December 2013. The main change is the change in the spare wheel of the trunk lid to floor it. Includes a 6-speed CVT gearbox coupled to a 2.5L, 4-cylinder, 16 DOHC, VVT-i Dual, ETCS-i, ACIS and SEFI 176 hp @ 6,200 rpm 173 lb-ft @ 4,100 rpm engine. In addition, it has Sports mode and Eco mode according to the needs of power or fuel savings.
How to Reset Maintenance Reminder Light on Toyota RAV4 (2016-2018):
To turning off the Oil Change Maintenance Required Light on 2016 2017 2018 2019 Toyota RAV4, conform to the following instructions:
Turn the ignition key to position "ON" (II) without starting the engine, If your vehicle has a Smart key button, press the "Start" button twice without touching the brake pedal.
Select  on the multi-information display using the navigation button (located on the steering wheel)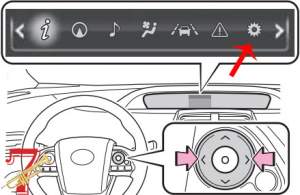 Scroll down and highlight VEHICLE SETTINGS  and then press OK button
Select "Scheduled Maintenance"
When a confirmation dialog appears, select "YES" and then press OK button
For more details, please watch the following video:
This procedure should apply to the latest generation of the Toyota RAV4 (2016 2017 2018 2019 models). Hopefully, the article of How to Reset Maintenance Reminder on Toyota RAV4 (2016-2018) useful for you. Good Luck!