2006-2015 Honda Civic Oil Life/Wrench Light Resetting & Meaning
Last Updated on July 30, 2022 by Nick
Honda Civic is a car manufactured by Honda Motor Co. The first generation was introduced in July 1972 as a 2-door coupe, followed by a 3-door hatchback version in September of that year. So are you here because you want to reset the oil life or wrench light that appears on your Honda Civic?
Whether you have the dealer's maintenance and oil changes and they forget to reset your light. This happened to a friend of mine, or if you have them done by someone else and don't know or forget to reset the light or do it yourself. So here's how you reset the oil life or the wrench light on the Honda Civic.
What does the wrench light mean on a Honda Civic?
I'm here to talk to you about your wrench light or maintenance minder system. Now Honda realizes that real life happens, so you shouldn't worry about when your car is due for service.
So what they've done is they've created the maintenance minder system, and what's gonna happen, don't be alarmed. You're going to start to see a flashing wrench on your dash, kind of a little reminder to say you're going to be service due soon.
If something happens and it gets away from you again now, it's gonna come on, and it's gonna stay on solid, and again now it's telling you to give friendly honda call they're gonna let you know what you do for. You might see a letter at a number, maybe an A to B one or something accompanying that wrench. 
Again it's just your service minder. Nothing's wrong with the car. It's not malfunctioning, so you can drive the way you usually do. Just give the dealer call. One of their representatives will be sure to tell you what you're due for based on your mileage, and they'd be happy to serve you.
2006-2011 Honda Civic Wrench Light Reset Guide
Time needed: 3 minutes.
All right, today we're in the infamous 2010 Honda Civic, which is one of my top ten favorite cars to drive. They're just a lot of fun. Anyways long story short, we're going to be resetting the oil life or the wrench light on this car.
Turn on your car without starting the engine

Put the key in the terminal to the second position right before you start the engine

Go to the OIL LIFE display

Next, are we going to use the button on the left side of the cluster and I think that it says SEL/RESET. So we need to press it until you get to the OIL LIFE screen


Hold down the SEL/RESET button

Once you on the oil life screen now press and hold the SEL/RESET button until the display starts to blink which should take about 10 seconds

Release and press the SEL/RESET button again

After that, we're going to go ahead and press the SEL/RESET button and hold it again for about 5 seconds then the oil life will change to 100%
Resetting Oil Life on 2012-2015 Honda Civic
This section will show you how to reset the oil life or service light on the 2014 Honda Civic. There are 2 ways to do it here. So let's get started.
With Cluster Button
Turn the key to the on position with the engine off
Press the TRIP knob repeatedly until you get on the OIL LIFE screen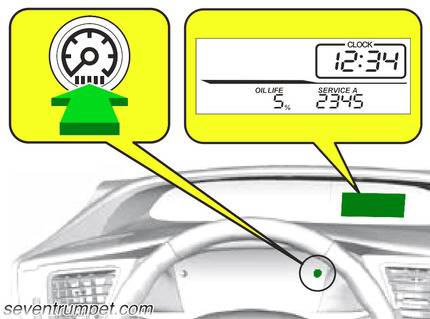 After you are on the screen, press and hold the TRIP knob until the oil life begins to blink
Release the button when it starts flashing
Finally, hold down the knob again to make the oil life percentage reset to 100%
With Steering Button
So once you've had an oil change and you've got fresh oil in there, and it's at 100%, you want your maintenance info to reflect that. It's very simple to reset it. All you have to do is come over to the steering wheel on the left side, and you're going to use the MENU button and the arrows buttons. So let's do it.
Turn on your car with the engine off
Press the MENU button to bring you to the main menu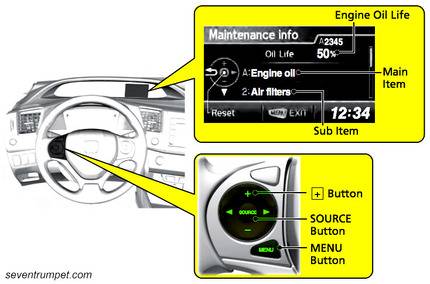 Afterward, go up to VEHICLE INFORMATION using the navigation button
Then you're gonna click that SOURCE button like I said the middle button to enter the menu
Next, select MAINTENANCE INFORMATION
When you are on the Oil Life screen, press the SOURCE button to enter the reset mode
Finally, you have to select YES and it should be reset
Repeat the procedure for reset the other items if needed
For your info, this operation work for the eighth and ninth generations of the Honda Civic (2006, 2007, 2008, 2009, 2010, 2011, 2012, 2013, 2014, 2015 model years). For the newer model, you can reach it here.
FAQ – Civic Oil Service
What is motor oil best for Honda Civic?
It is recommended to use SAE 0W-20 in the 2014 Honda Civic. Honda recommends using SAE-classified engine oils with API Certification Seals that fulfill oil viscosity criteria.
How much oil does a 1.8 liter Honda Civic take?
The Honda Civic with a 1.8L engine has a capacity of 3.9 quarts (3.7 liters), while the 2.4L engine has a capacity of 4.4 quarts (4.2 liters).
Is the Honda Civic brake fluid DOT 3 or 4?
DOT 4 brake fluid is the recommended choice for this vehicle. These include BrakeBest 12 Ounce DOT4 Brake Fluid, Prestone 12 Ounce DOT4 Brake Fluid, and Pure Guard DOT4 Brake Fluid.
Why did my airbag light suddenly come on?
You may see the airbag light in your 2014 Honda Civic when the seat sensors or switches malfunction or report inaccurate passenger occupancy or presence.
So there you go. It's pretty simple to do this on your own, and also I believe the manual also tells you how to do that to reset. Anyway, this is the end of the content; please leave a comment if you have any questions about that. So thanks for your time and have a great day!