How to Reset Maintenance Light on Toyota Prius (2016-2018)
|
How to Reset Maintenance Light on Toyota Prius (2016-2018) – The Toyota Prius is a compact hybrid car powered by gasoline and electricity. The Prius has become the icon of hybrid cars and green cars in general. According to the United States Environmental Protection Agency (EPA) certification, the 2010 Prius is the most fuel-efficient car available in the United States. The EPA and the California Air Resources Commission (CARB) certified the Prius as the cleanest car sold in the United States according to its toxic emissions and air pollution.
The first generation Toyota Prius was launched in the Japanese market in 1997 and was the first produced in series. In 2001 it was launched in other markets worldwide. The second generation of the Prius was launched in 2004 and the third in 2009. The fourth generation of the conventional Prius was launched on the Japanese market in December 2015, and in Europe and North America at the beginning of 2016.
How to Reset Maintenance Light on Toyota Prius (2016-2018):
To turning off the Oil Change Maintenance Required Light on 2016 2017 2018 2019 Toyota Prius, conform to the following instructions:
Turn the ignition key to position "ON" (II) without starting the engine, If your vehicle has a Smart key button, press the "Start" button twice without touching the brake pedal.
Select  on the multi-information display using the navigation button (located on the steering wheel)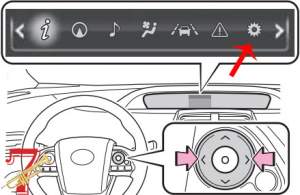 Select "Maintenance System"
Select "Oil Maintenance"
When a confirmation dialog appears, select "YES" and then press OK button
For more details, please watch the following video:
This procedure should apply to the latest generation of the Toyota Prius (2016 2017 2018 2019 models). Hopefully, the article of How to Reset Maintenance Light on Toyota Prius (2016-2018) useful for you. Good Luck!