How to Reset Engine Oil Life on 2014-2017 Hyundai Veloster
|
How to Reset Engine Oil Life on 2014-2017 Hyundai Veloster – Hyundai Veloster is a compact sporty coupe hatchback manufactured by Hyundai. Inspired by the Veloster concept introduced in 2007, sales started scheduled for the second half of 2011. It was released on January 10, 2011, at the Detroit Motor Show. It is considered a concept car with three doors and glass ceiling. Its name is the result of the combination of the words "velocity" and "roadster", forming "Veloster". The car platform is based on the front and wheels of the Hyundai Accent and the Hyundai Elantra.
In June 2012, Hyundai began selling the Veloster Turbo in the United States. This version has the engine 1.6 GDI with direct injection, offering 204hp (201hp) power, in addition to modifications in the external and internal compared to the regular version. The version that is available in Brazil has engine DOHC 1.6 of 128 horsepower. Hyundai has simply entered a car that will certainly change the concept of hatchbacks with this three door coupe version.
How to Reset Engine Oil Life on 2014-2017 Hyundai Veloster:
To turning off the Engine Oil Service Life Light on 2014 2015 2016 2017 Hyundai Veloster, conform to the following instructions:
Turn the ignition to position On without starting the engine.
Press and hold the TRIP button until you enter to "User Setting" mode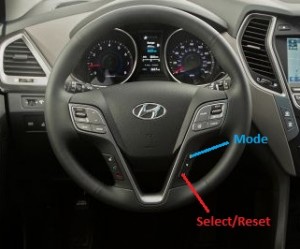 Select "Maintenance" by pressing the RESET button
Select the desired maintenance schedule by pressing TRIP button to move and RESET button to select
Press the TRIP button for more than 2 seconds to come out of the Maintenance mode
For more details, please watch the following video:
Note: Repeat the process, if message illuminates when you start the engine. This procedure should be work on the latest generation of Hyundai Veloster (2014 2015 2016 2017 2018) model years. Hopefully the article of How to Reset Engine Oil Life on 2014-2017 Hyundai Veloster useful for you. Good Luck!